WHO IS IT FOR
Manufacturers, distributors, wholesalers and any business that moves physical goods across the globe requiring the support of forwarders, financiers or customs brokers
Fast data entry from any source, no double entry
Exabler reads in data fast from Xero, Sage, SAP and others. Eliminate data entry errors, standardised across documents and avoid repeated conversations.
Assured shipping, filing & finance instructions
FastCheck algorithm ensures critical info is present so you can request any trade services in minutes, from freight to finance.
Secure document storage, end-to-end privacy
Create or upload trade documents simply. Instant secure sharing with providers. Sensitive commerical information remains private.
Connect & collaborate, trade visibility
Use Exabler to track all the moving parts your trade, and communicate with providers privately, work with colleagues on a single central area.
HOW IT HELPS
Working standalone or alongside current technology, importers & exporters enter order details or upload a spreadsheet to create a digitalised trade to generate instructions and/or documents
Create trade documents effortlessly
Increase reliability and speed in your business with digital documents like certificates of origin and commercial invoices
Enjoy a clear, concise, time-saving interface
With centralised order entry, file management and visibility across the complete trade lifecyle
Work with your own service providers
Trade Services Hub cuts out surprises across customs, freight, letters of credit, FX/payments, insurance etc
Be set up in hours, no fuss, no lock-in
All in one cloud solution eliminates expensive hosting, time-consuming consultancy and installation fees
FEATURES
Take full advantage of preferential trade terms and enjoy more bankable enquiry-to-order and procure-to-pay.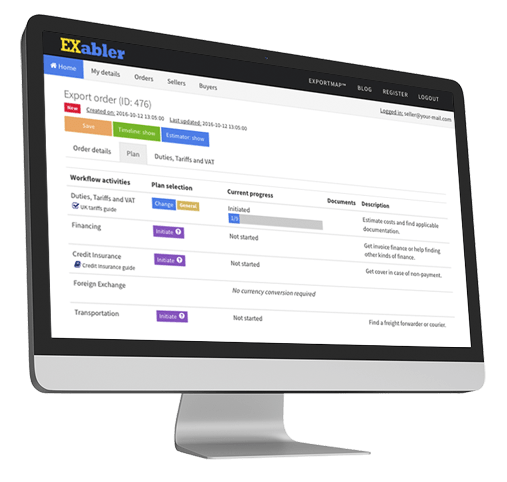 Create trade and shipping documents rapidly and accurately first time
Trade automation tools that help you save time, collaborate and reduce document errors
Issue digital trade and finance documents on your own letterhead

Instant validation and correction with just few clicks
Intelligent tools for export controls, tariffs, Incoterms®
Interface with your product catalogue
Incoterms® are a registered trade mark of the International Chamber of Commerce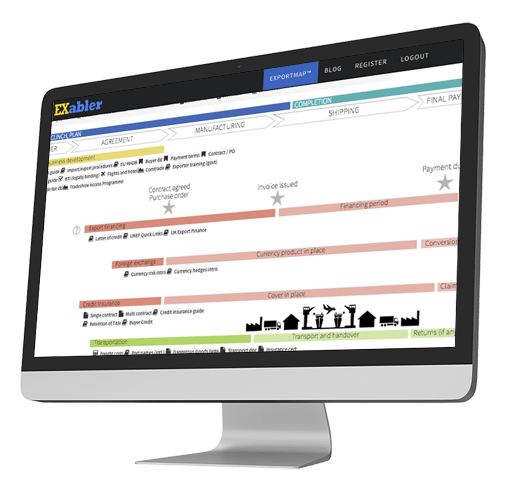 Collaborate effectively across teams to eliminate those nasty surprises
Joined-up thinking to bring documentation and communication in one place.
Assign team roles across finance, logistics or sales
Seamlessly work across locations and timezones
Track progress, share import/export knowledge
Built-in workflows to organise orders and team members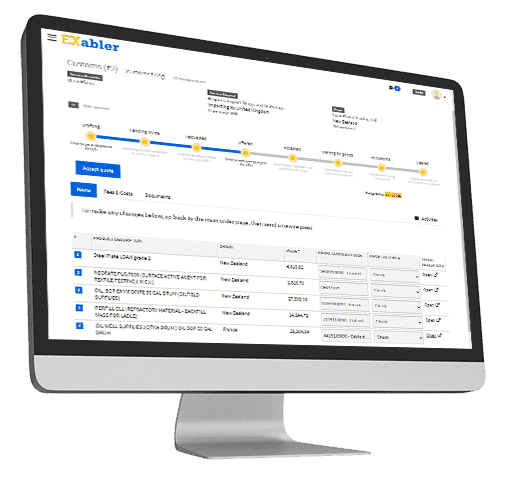 Access finance and other trade services to fund and fulfil so you can focus on the next deal
Make external collaboration more like internal teamwork.
Invite trade services partners and financiers with one-click email
Proprietary FastCheck aligns order details to bank rules
Manage quotes and costs for a better handle on profitability
Build deeper client relationships through the Exabler platform
Free 7 day trial.
No credit card or installation required.
Import tax calculator
Quick, easy and free to use, calculate quickly what might need to be paid to HMRC
Instructions
Step 1. Find the correct Commodity Code - consult the UK's Trade Tariff here if you are unsure.
Step 2. Select the origin the goods and the value of goods delivered to the United Kingdom (see below about Rules of Origin).
Step 3. Select from the tariff options that appear under the "Preference".
---
Then the calculator will
provide you with an estimated calculation of the duty payable, and
alert you about applicable VAT and possible quotas or special procedures that could be available to minimise your overall tax bill.
The final duty and other costs you pay depend supporting documentation.
Speak to customs experts if you are unsure about where your goods originate from and what Rules of Origin apply or special procedures.
CLIENT FEEDBACK
Exabler is a great application for exporters like ourselves. Generation of bid documents and export documents is easy. Saves us a lot of time and energy and great to have everything all in one place.
Industrial goods trader
We have done our first delivery from China and I just want to say thank you for your help
Medical equipment importer
With Exabler we all feel reassured that we will manage the impact of Brexit processes.
High-tech electronics distributor
Contact
Email
info@exabler.com
Call
+44 207 112 8905
Book Online
Book a time of your choosing
Careers
We're looking for new team members!
Business Development Manager Click here
Lead Developer / Solution Architect Click here